Buckwheat Noodles, Miso-Roasted Pumpkin
& Umeboshi Plum Salad
June, 2018 // recipes // Carla Oates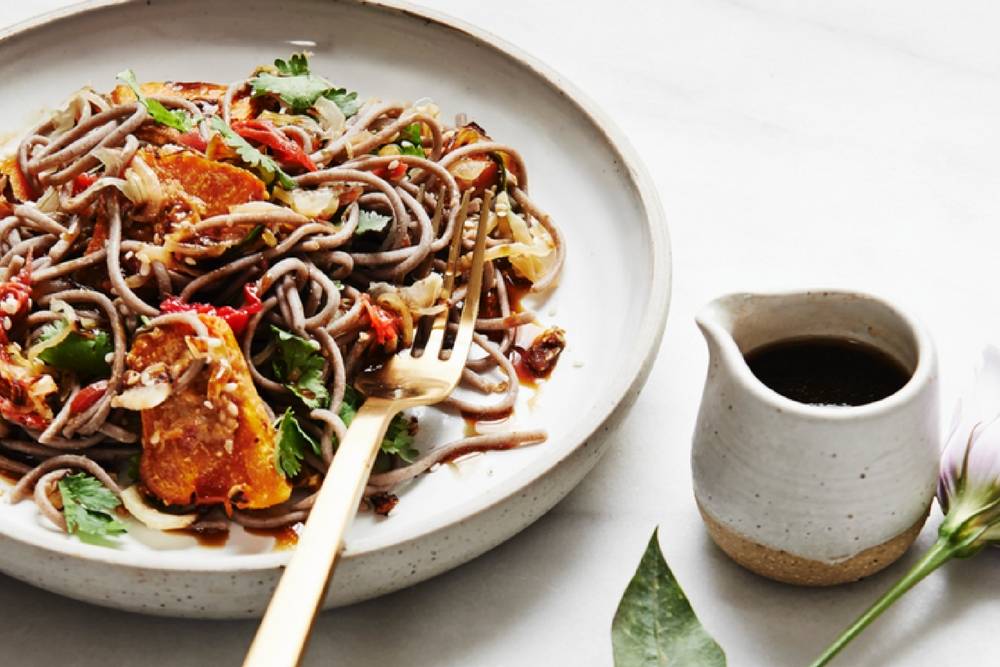 Serves 4


Ingredients
2 tablespoons white (Shiro) miso paste

2 tablespoons coconut oil, melted and cooled

11⁄2 tablespoons sesame seeds

500g pumpkin, peeled, seeds removed and cut into 1cm-thick slices

1 brown onion, thinly sliced

2 cloves garlic, finely chopped

200g packet buckwheat noodles

3 umeboshi plums, pitted and thinly sliced

1 large handful coriander leaves, torn

Dressing
1⁄4 cup (60ml) tamari

1⁄4 cup (60ml) freshly squeezed lemon juice

2 teaspoons sesame oil


METHOD:
Preheat the oven to 200°C. Place a large wire rack on a large baking tray.




Blend the miso paste, 1 tablespoon of the coconut oil and 1 tablespoon of the sesame seeds together in
a medium bowl. Add the pumpkin and toss to coat.




Arrange the pumpkin slices on the rack. Roast for 15-20 minutes, until softened and caramelised.




Meanwhile heat the remaining oil in a medium frying pan over low heat. Cook the onion and garlic, stirring occasionally, for 15 minutes, or until caramelised.
Set aside.




Bring a large saucepan of water to the boil.




Cook the buckwheat noodles, according to the packet instructions, or until al dente. Drain and refresh in iced water. Drain.




To prepare the dressing, place the tamari, lemon juice and sesame oil in a jar and seal with a lid. Shake to combine.




To assemble, place the noodles, roasted pumpkin, caramelised onion, umeboshi plums, coriander and remaining sesame seeds in a large bowl and toss
to combine. Pour over the dressing and toss to coat.

To find more nourishing recipes from The Beauty Chef Cookbook, click here.
Join our inner beauty family and
receive 10% off your first order
---